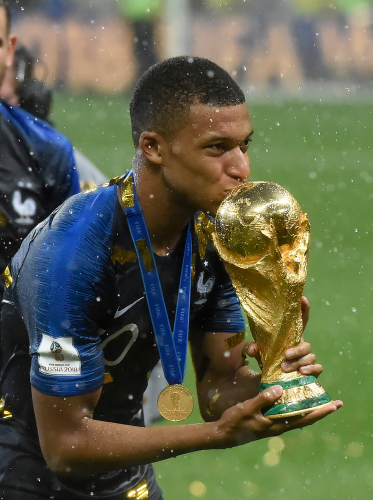 Who is the best soccer player in the world?
Posted on 12/28/2020
Tags: Aug APM
---
In our last post, we learned that standard plus-minus methods don't work in soccer. That's because soccer has two fundamental disadvantages:
There aren't a lot of goals, and
There aren't a lot of substitutions.
But soccer has advantages too.
Soccer's plus-minus advantages
What advantages does soccer have? For starters, top players play on multiple teams. For example, Cristiano Ronaldo plays for Juventus and Portugal.
From a plus-minus perspective, playing on multiple teams is quite valuable. It tells us how Ronaldo performs with two completely different player combinations. Presumably, if Juventus and Portugal play well, that's evidence that Ronaldo is a great player.
Another advantage for soccer is that teams play in multiple competitions. For example, AC Milan plays in Serie A, the Europa League, Coppa Italia, and more. Teams playing in multiple competitions is advantageous for the same reason: it tells us how different combinations of players perform against each other.
In contrast, plus-minus ratings for the NBA and NHL focus on a single season. And in a single season, you only see drastic shifts in player combinations from trades, injuries, and free agent signings. And these events are rare and unpredictable in a single season.
To sum up, soccer has two fundamental advantages:
Players play on multiple teams, and
Teams play in multiple competitions.
Let's use this insight to improve our ratings.
How to use soccers advantages in plus-minus ratings
To incorporate players on multiple teams, and teams in multiple competitions, all we need to do is compute Augmented APM on a larger data-set that includes all the relevant matches.
A few others have computed similar ratings, notably Kharrat et. al. and the excellent Football Player Ratings by Lars Hvattum. In each case, combining leagues and tournaments leads more intuitive, and less correlated ratings.
In our case, we'll compute Augmented APM for the top five leagues:
English Premier League,
La Liga,
Serie A,
German Bundesliga,
French Ligue 1,
the top two club tournaments:
Champions League,
Europa League,
and the top two international tournaments:
Euro Cup,
World Cup.
Of course, this list of competitions is not exhaustive. But it does capture the most important players, and the most important matches, so it works as a first pass.
So whose the best player in the world?
The best soccer players in the world
The results are available in our Best Player in the World App. In the App, you can:
Browse the top players,
Filter by team/country/position/league,
View a players ranking over time,
and more. The top 15 players are: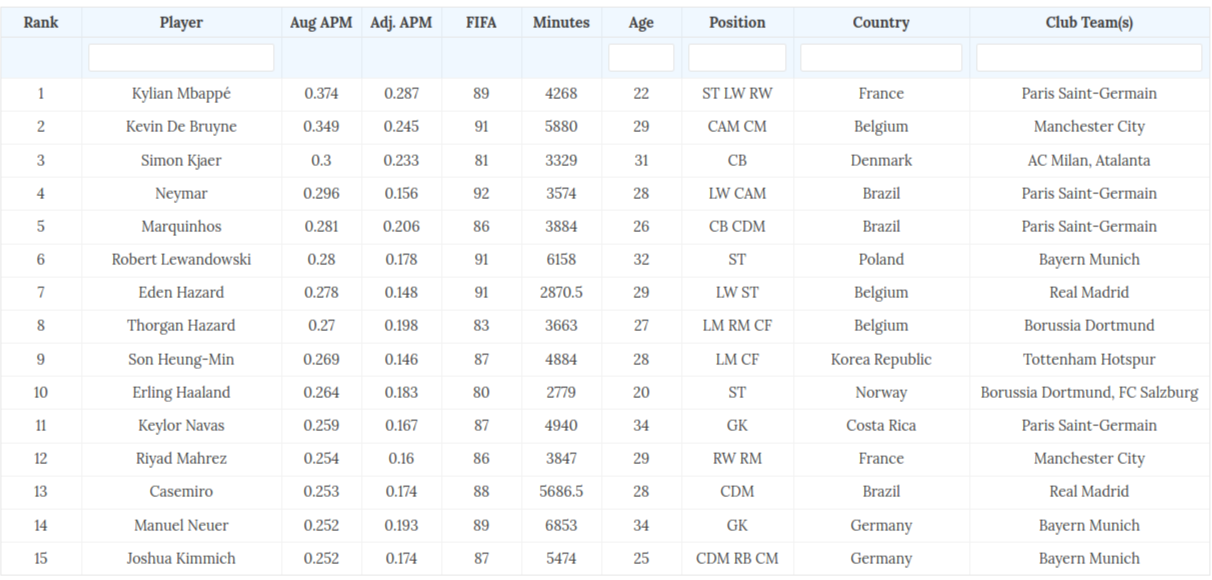 The results are fascinating, so let's drill down on a few key insights.
Kylian Mbappé: Best player in the world?
You may be surprised to see Kylian Mbappé ranked as the top player in the world. But remember, adjusted plus-minus is based on winning. And think about how successful Mbappe has been in the past few years:
France won the 2018 World Cup.
PSG won the 2019-20 French Ligue 1.
PSG was the runner-up in the 2019-20 Champions League.
And it's not just that Mbappe has been on good teams. It's that Mbappe has been on the pitch when his team has been most successful. You can see this in Mbappe's pure adjusted plus-minus rating, where he's the #1 player by a substantial margin: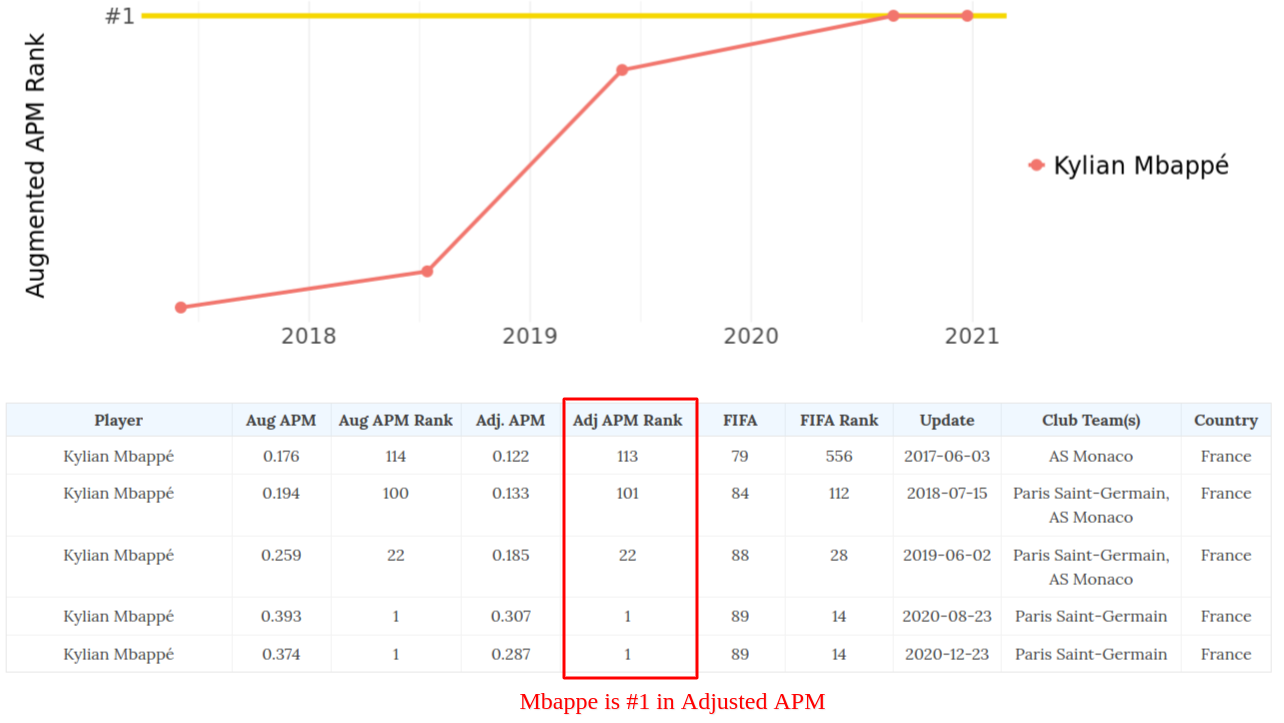 Are Messi and Ronaldo starting to slip?
In the last decade, the best player in the world conversation been dominated by two players: Lionel Messi and Cristiano Ronaldo. But when you look at their Augmented APM ratings across time, you can see that their performance is slipping: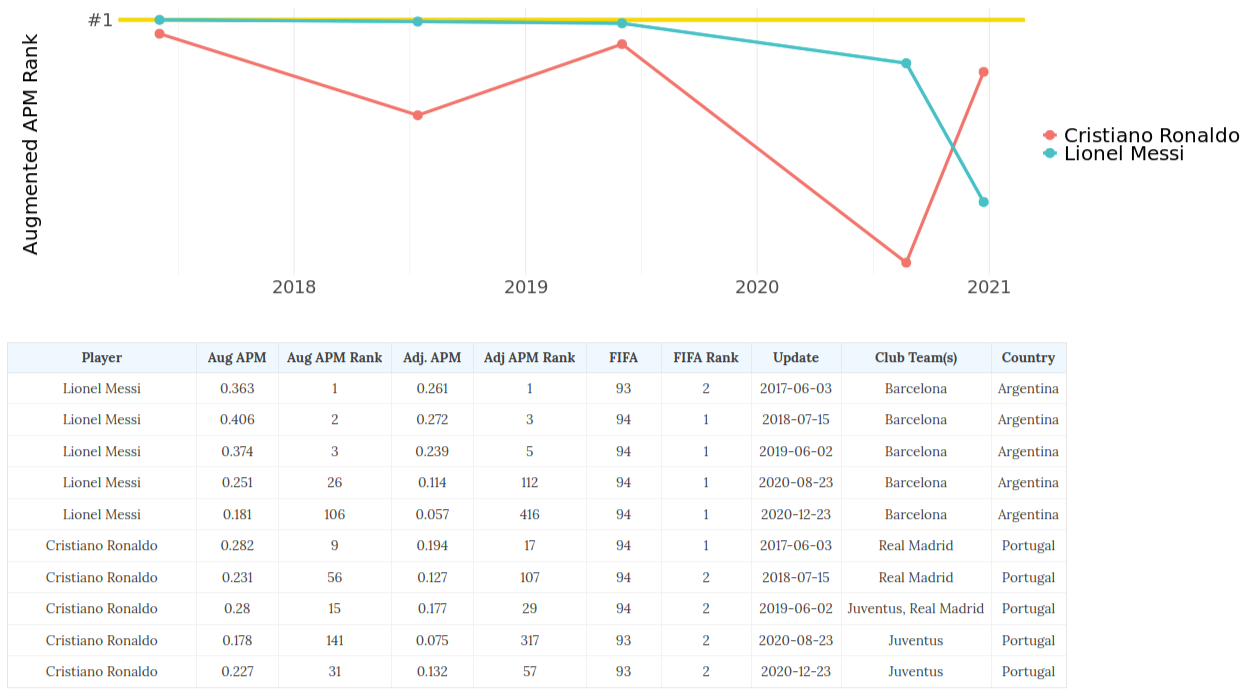 This is despite the fact that Messi and Ronaldo have the highest FIFA ratings.
The rise of Erling Haaland
Finally, there's been a lot of buzz surrounding the Norwegian sensation Erling Haaland. Our rankings capture the meteoric rise of Haaland, who has moved all the way into the top 10:

This post barely scratched the surface of possible analyses. To learn more, you can browse the ratings for yourself, and please feel free to contact us if you have any questions, comments, or suggestions.
Our ratings will update on a weekly schedule, so stay tuned for more updates and developments!